Ragnarok
The Journal of Fantasy and Science Fiction Wargaming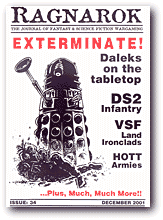 Issue 34 contains the following:
Pepperpots rules!
Strange Icebergs? (Strange Tydes)

Double Trouble

Full Thrust confusion

Cartoon Capers

Blyton versus Disney (Hordes of the Things)

Poor Bloody Infantry

Dirtside II national characteristics

Great Land Ironclad Robbery

SFSFW Game (Voyages Extraordinaires)

Source of the Nile

Dinosaurs in Egypt (Tusk)

The Truth is Out There

Aliens in Abduction

Games Day 2001

A review of GW's premier event
Bob Naismith
Reviews of miniatures from Ainsty Casting Company, Games Workshop, HäT, Kallistra, MJ Figures, Rackham, Reaper Miniatures, Steve Jackson Games and Wizkids.

The Rules of War

Reviews of Gothic Horror: Vampire Wars, Spacedock, Supersystem, The Lord of the Rings: Fellowship of the Ring and Weed Killer.
---
---