Ragnarok
The Journal of Fantasy and Science Fiction Wargaming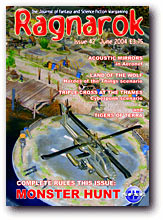 Issue 42 contains the following:
Monster Hunt

Rules for fighting giant monsters, 1950s style

Big Ears in the Sky

Acoustic Mirrors in Aeronef

Land of the Wolf

Hordes of the Things scenario

Fantasy and SF Partizan

Photo report and interview with the organisers

Tigers of Terra

An aero-manga game

Triple-Cross at the Thames

Firewall 2136AD scenario

The Melting Pot

Reviews of miniatures from Brigade Games, Force XXI Miniatures, Hasegawa, i-Kore, Phigs Miniatures, Plastoy. Revell, Wessex Games and Zombiesmith.

The Rules of War

Reviews of Hordes of the Things second edition, Firewall 2136AD, Diana Warrior Princess, Siege of Gondor and Codex Witchhunters.
---
---