Ragnarok
The Journal of Fantasy and Science Fiction Wargaming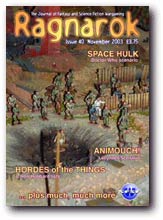 Issue 40 contains the following:
Is There A Doctor In The Hulk?

Using Space Hulk for Dr Who games

Final Blackout

Hordes of the Things article based on L Ron Hubbard's 1930's post apocalyptic tale

The Rescuse of Toby

Scenario based on the David Bowie film Labyrinth using Animouch!

Symphony of Destruction

SF armour battle using Iron Cow 2103AD

Conflicts of the Third Age

Part Two (and a bit): Armies of Middle Earth II (the bad guys) (Warmaster)

A Game of Rat and Mouse

Town fighting Panzerfauste scenario

The Melting Pot

Reviews of miniatures from Assassin Minituren, Brigade Models, Copplestone Castings, Crocodile Games, Games Workshop, Ground Zero Games, Heresy Miniatures, Kopro, North Star Figures, Old Crow Models, Pendraken, Revell and Tabletop Miniatures.

The Rules of War

Reviews of Battleball, Bugs!, Hard Vacuum, The Lord of the Rings: Return of the King, Codex: Imperial Guard, Science Gone Mad, Shadow & Flame, Warhammer: Beasts of Chaos, Warhammer: Kislev, Maps of Middle Earth and How To Paint Citadel Miniatures.
---
---