Ragnarok
The Journal of Fantasy and Science Fiction Wargaming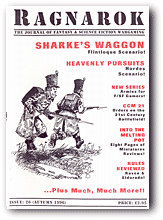 Issue 26 contains the following:
The race for the Neubourg Bridge 2103 (Iron Cow)
Heaven and Hell fight over Lost Souls (Hordes of the Things)
Bug Hunting and Saving Colonists' Daughters (Into the Lazerzone)
Commerce Rading in Catalucia (Flintloque)
John Norman's Gor series
Brian Aldiss' Malacian Militia
Orders on the 21st century battlefield
Desertion on the F/SF battlefield

The (Evil) Empire Strikes Back

I was a Games Workshop junkie...

The Profit of (War)Gaming

GW's 1995 Results examined
The one minute wonder technique!

Ragnacon III

What went on at the SFSFW Open Day

The Melting Pot

Reviews of miniatures from Harlequin Miniatures, Irregular Miniatures, Gripping Beast, Scotia Models, Reaper Miniatures, Veni Vidi Vici, Ground Zero Games, Alternative Armies and Kryomek Miniatures.

The Rules of War

Reviews of Eldorado and Raven.
---
---