Ragnarok
The Journal of Fantasy and Science Fiction Wargaming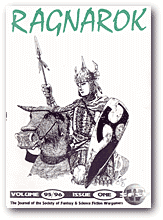 Issue 20 contains the following:
The SemFed get their own starfleet (Full Thrust)
Are we turning into White Dwarf?

Snoopy and the Iron Eagles

Tally Ho Chaps!

Full Metal Anorak

The original FMA gives her views on armour

Hostage Run

Hell, could this be Battletech? (Hellfire)

How to upset power crazy GMs or opponents...

I can spell! (Man O'War)

USS Voyager

An exclusive from Felix Enterprises (Star Trek - Full Thrust)
... target acquired, missiles away, target destroyed ... (Iron Cow)

Not for the money

Mecenaries in Science Fiction & Fantasy

From Stringbags to Shooting Stars

Time to be silent
Quirky Victorian Things (Ironclads and Ether Flyers)

It's not all black and white

Where is Mulder when you need her? ("her"? The Ed must have been thinking of Duchovny's role in Twin Peaks.)

QMS

Reviews of Thousand Parsec Boots, Terminator 2 - Year of Darkness, Aliens: Colonial Marine Technical Manual, World War: Tilting the Balance and miniatures from Revell, Brigade Models and S&S Models.
---
---