Ragnarok
The Journal of Fantasy and Science Fiction Wargaming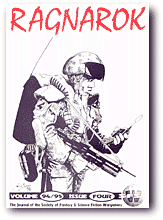 Issue 17 contains the following:
Alternative Rantings from underneath the Wargames Table

Painting techniques

Scratch 'n Sniff

What's that smell?

Dig This

So this is how we beat the ferrets, said Mole (Hordes of the Things)

Twelve Dozen Heroes

and some prawn crackers (Hordes of the Things)

Dirtside II Campaigns

A load of baggage
Germans, British and Dinosaurs (Tusk)

Monarch class Superfreighter

A BIG BIG ship (Full Thrust)

Beasts of War

How to use dogs to blow up tanks

Bolters and Battle Axes

Bang! Bang! you're dead
A load more baggage

Predators versus Aliens

Nasty things versus nasty things

QMS

Reviews of Reaching the Threshold, Tusk, The Best of Future Wars, The 7th Sorcerer, World War: In The Balance and miniatures from Ground Zero Games, Irregular Miniatures, Conflict Miniatures and Blade Miniatures.
Plus an insert containing "Homes and Gardens" - a scenery, buildings and construction supplement.
---
---